How to be saved!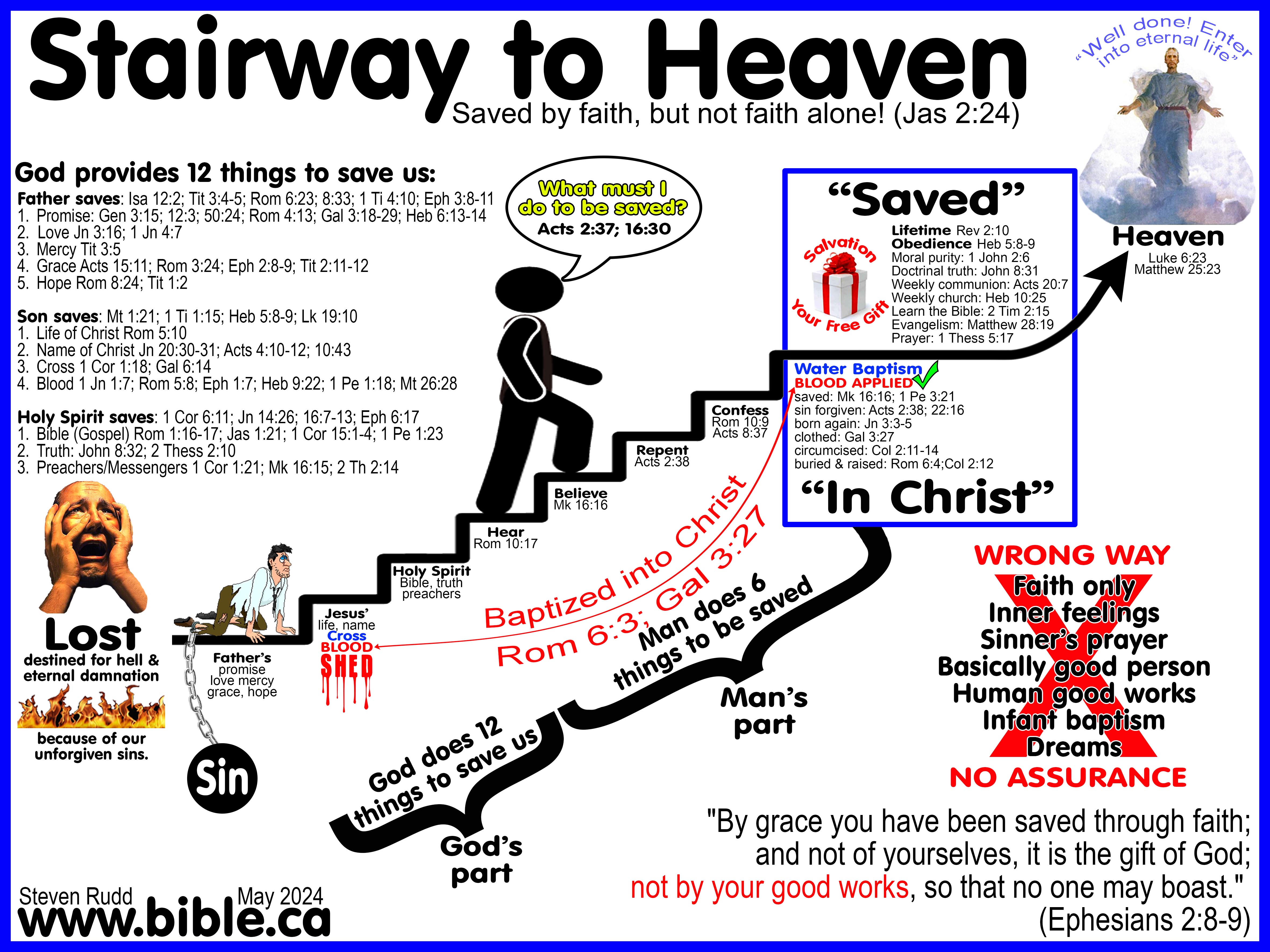 New Life in Christ!

You must be born again!

John 3:3-5 + Mark 16:16 + Acts 2:38
(click on photo for high resolution)
Step #1: Hear
What role does the Holy Spirit in my Conversion?
| | |
| --- | --- |
| | |
| Step #2: Believe | |
Bible Faith defined
The True Story of Jesus Christ!
Is Jesus Christ, God's only true Son?
Are we Saved By Faith Only?
Are we saved by Faith without Works?
Jesus Our Hope!
| | |
| --- | --- |
| | |
| 0Step #3: Repent | |
Christians Should Be Different!
What is Bible Repentance?
Step #4: Confess our faith to others:
Confession is where we tell others we believe in Christ. Before we become Christians, it is important for us to openly state that Jesus is the Son of God who rose from the dead the third day. After we become Christians through water baptism, it means that we must be evangelistic in leading others to Christ. This as a bare minimum requires us to at least inform others that we are Christians when the need of the moment requires us to do so. Confession in this sense, is not a confession of sins, but a confession of faith. See: Matt 10:32-33; Luke 9:26; Rom 10:9-10; Acts 8:36-37
| | |
| --- | --- |
| | |
| Step #5: Baptism by immersion for remission of sins | |
Must I be baptized to be saved and have my sins forgiven?
How can I be born again? We are born again at our water Baptism!
Catholic Baptism is not Bible baptism! Not even John Paul II can make right, an infant baptism by sprinkling, that is wrong according to the Bible!
Objections to baptism as essential to salvation refuted

| | |
| --- | --- |
| | |
| Step #6: Remain faithful till death | |
Is weekly Church Attendance Essential?
Attending church for 24 wrong reasons. Also 12 excuses people use for not attending church.
Will you pass the Self-Evaluation test for Christians!
What is Bible Obedience?
Could you endure the Persecution of early Christians?
Can A Christian Sin And Be Lost?
| | |
| --- | --- |
| | |
| Why people will go to hell: | |
The "sinners prayer" is not in the Bible, and won't save you!
Does your salvation experience match the Bible Blueprint?
Almost Persuaded To Be A Christian...
I would become a Christian... Except for Those Hypocrites In The Church!!!
What is Bible Grace?
What Must I Do To Be Saved?
How Can Man Be Justified With God?
Why Be A Christian?
Self-Test: Determine for yourself if you are lost or saved!
Determine for yourself if you are lost or saved!
Lesson #1: Our Eternal Salvation
Lesson #2: God's Warning
Lesson #3: Eternity
Lesson #4: Our Sin Problem
Lesson #5: The Nature Of God
Lesson #6: Christ Paid Our Penalty
Lesson #7: The Grace Of God
Lesson #8: Lets Get Personal!
Lesson #9: Doing God's Will
Lesson #10: Believing In God And Christ
Lesson #11: Repentance
Lesson #12: Confessing Christ
Lesson #13: Must We Be Baptized To Be Saved?
Lesson #14: Must We Be Baptized For Remission Of Our Sins?
Lesson #15: The Cleansing Blood Of Christ
Lesson #16: Becoming A Child Of God
Lesson #17: Baptized Into Christ
Lesson #18: Obedience To The Gospel
Lesson #19: Baptism Is Immersion
Lesson #20: Infants Are Not Lost
Lesson #21: Man Is Not To Change What God Says
Lesson #22: The Lord's Church (Part A)
Lesson #23: The Lord's Church (Part B)
Lesson #24: The Lord's Church (Part C)
Lesson #25: Summary

Do you know about the 23 saviors of the Bible???